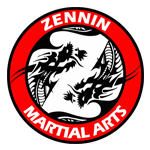 Zennin translates as 'good people', relating to the fraternity of positive martial arts instructors and students. The Zennin logo features two dragons facing each other from opposite sides representing awareness.
Mission Statement: Zennin is committed to promoting the value and learning of martial arts to improve the health and wellbeing of its members to benefit broad communities throughout New Zealand.
Zennin Martial Arts (ZMA) will continue to be actively supported by internationally and nationally renowned martial artists who are committed to the ongoing development of the organisation and its members.
Training Philosophy: The ZMA training philosophy relates to three combat ranges:
Kicking and striking range incorporating predominately Thai kickboxing techniques.
Mid-range locks, holds and throws incorporating Goju self defence applications.
Ground control and submission.
Weaponry is also a focus area at black belt level and above.
The three class groups of Junior, Intermediate and Senior will remain the same for 4Dragons Upper Hutt. Zennin will continue to teach Thai Kickboxing techniques which we already incorporate into our normal training.
Syllabus Outline
The syllabus will cover more than grading requirements and will include ground fighting techniques. We will use Goju forms (kata) and take advantage of the in-depth knowledge available on them. Self-defence will include solid take-downs and more applications from haymaker punches.
Zennin Uniforms, Belts, Titles and Ages
Full Black Gi with ZMA badge on left & Club badge on right of chest for coloured belts.
YELLOW, ORANGE, BLUE, GREEN & BROWN
 1ST Dan – Full Black Gi with two badges, Belt has 1 x 12.5mm Red stripe on right side 25mm up Title – Sempai, Age requirement – 16years
 2nd Dan – Full Black Gi with two badges, Belt has 2 x Red 12.5mm stripes 12.5mm apart on right side 25mm up & name ( in Japanese ) on left side 25mm up & 190mm length. Title – Dai Sempai, Age requirement – 18years
 3rd Dan – White Gi top with black pants, 1 x ZMA badge below the belt on left hand side, Belt has 3 x Red 12.5mm stripes 12.5mm apart Title – Sensei, Age requirement – 21years
 4th Dan – Full White Gi with 1 x ZMA badge below the belt on left hand side, Belt has 4 x Red 12.5mm stripes 12.5mm apart Title – Renshi, Age requirement – 25years
 5th Dan – Full White Gi with 1 x ZMA badge below the belt on left hand side, Belt has 1 x Red 90mm stripe right side 25mm up Title – Shihan, Age requirement – 30years
 6th Dan – Full White Gi with 1 x ZMA badge below the belt on left hand side, Belt has 1 x Red 90mm stripe & 1 Red 12.5mm stripe 12.5mm apart Title – Kyoshi, Age requirement – 40years
 7th & 8th Dan – Full White Gi with 1 x ZMA badge below the belt on left hand side, Belts follow suit Title – Stays Kyoshi
 9th & 10th Dan – Full White Gi with 1 x ZMA badge below the belt on left hand side, Belt changes to Red with black stripes 9th Dan 1 x 90mm & 4 x 12.5mm stripes 10th Dan 2 x 90mm stripes Title – Both Hanshi